24/03/19 11:56

Corporate reality is that there is a growing interest from employees to use their personal devices for work. This can have a very positive impact on business – choosing which device is best for them and when, empowers workers and makes them more productive – but it also raises many security concerns for the enterprise – especially around access, confidentiality of information, compliance, security and privacy.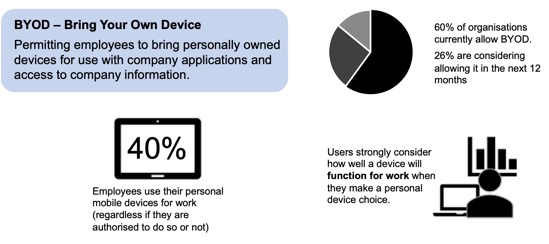 In order to define how employees will be able to interact with the corporate resources, the Bring-Your-Own-Device (BYOD) strategy is a critical part of your journey toward BYOD. It is there to define the capabilities your organisation offers to employees to use their personal laptops, smartphones or tablets for work.

To assist you in your journey, this article covers how to answer these questions and what are the options available for you in order to create a secure BYOD strategy.
Read More…